Super Brain Blog – Season 4 Episode 11
It's only a penis with artist and sex worker Kate McGrew
Become a Patron
Listen and Subscribe:
Trailer
Topics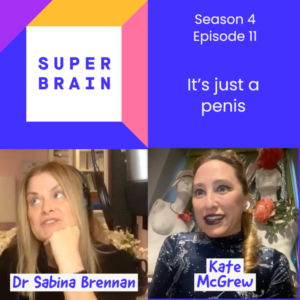 00:41 Stepping out on stage at seven
02:33 Learning Abelton and writing a book
03:39 Irish ancestry
08:05 Getting into sex work
15:11 Spirit of adventure
18:21 Unconditional love
19:51 Activism SWAI
23:34 Turn off the red light
28:03 Legalisation vs criminalisation
31:00 Sex work during COVID
34:21 Who sees sex workers
38:02 Who are sex workers
39:11 Male sex workers
40:47 Feminist paternalists
43:56 Safe sex work
44:55 Moms, daughters, sex workers and abortion
52:08 Is sexual assault worse that other violent assault?
54:50 Attitudes to rape
59:12 Follow your hearts desire
Links
Kate's website
Guest Bio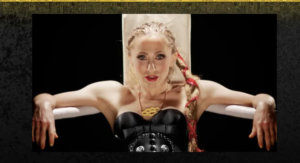 Kate McGrew first gained notoriety in Ireland as singer/MC Lady Grew before being dubbed by Sunday Independent "Ireland's Favourite Courtesan". After 6 years as Director of Sex Workers Alliance Ireland, she sits on the board of the European Sex Work Alliance. Her stage shows and music promote sex worker rights and she is currently writing a book.
Over to You
Kate and I covered a lot of controversial topics in this episode. Some things we are still wrestling with, I'd love to hear your thoughts and opinions.
Transcript
This transcript has been prepared by AI. It may contain errors but I simply don't have the resources (human or financial) to edit it. Volunteers willing to do so are more than welcome simply email me info@superbrain.ie
Dr Sabina Brennan 00:00
Hi my name is Sabina Brennan, and you are listening to Super Brain, the podcast for everyone with a brain. My guest this week is a performing artist an activist and a sex worker. Her name is Kate McGrew. And of course, I want to talk to you about your activism and your sex work. But actually, I'd really first of all, just like to get to know a little bit about Kate and your performance and being an artist. And as someone who knew I wanted to act from the age of eight, I'm always curious about other creative people. Is it something you just got the fire when you were a child?
Kate McGrew 00:41
It is indeed, Sabina. Thanks for having me on today. Yeah, from the time I stepped out on stage when I was like yourself seven years old, I was just like, This is home. This is what I want to do all the time. So I knew right away my whole family was in fact, I think that very first show that I was in was like von Trapp. Like we were all in the show together
Dr Sabina Brennan 01:02
your whole family. But so are you from a big family. Do you have many brothers and sisters?
Kate McGrew 01:07
An older sister younger brother,
Dr Sabina Brennan 01:09
Oh right, okay. And so this was like a school show or something? Was it or was something?
Kate McGrew 01:13
It was community theater?
Dr Sabina Brennan 01:14
Yeah. Oh, wow. So straightaway, you were out there in the performing and you sing and you dance, and you do stand up. So like, you're multi talented? Was that always the way you wanted to go? Or has that just sort of happen that way? Like, or did you have a particular preference for the singing or the dancing, or you just love all of it.
Kate McGrew 01:35
I do love all of it. I played piano as a kid, singing as well. And then I was in musicals primarily. And when I went to college, I started out as a theater major, but then I started dancing for the first time and oh my gosh, I really want to be a dance major. But part of the reason why I went to that school is because they had a really good ethnomusicology program. So I started taking lots of African and Indian music classes with different instruments. So then I was like, switch to a music major. But then I you know, realize theater is still the place where you can combine all of the above. So that's why I stuck on that path. But even to this day, I'm sort of doing so many things that span a spectrum, like right now learning to write beats with Ableton, which is really exciting.
Dr Sabina Brennan 02:20
Exciting, so you should explain to the listeners what Ableton is
Kate McGrew 02:23
Sure Ableton is a software program. Beats writing program. It's like the best one out there. Really?
Dr Sabina Brennan 02:29
Yeah, you're a writer as well. Do you write your own material for shows?
Kate McGrew 02:33
Yeah, I do. So the one woman shows that I started doing when I came to Ireland, one that I was doing particularly called Sweet Pang was myself on stage. And then I was pulled down singing during the show, and doing a bit of clowning, and singing and rapping. And in every town that we toured, I would cast a DJ from the town as sort of playing the judge in the show until he was on stage with me. So that had like a local element to that hip hop. And we're freestyling a bit on stage and stuff like that. Yeah. So I do write all my stuff, and actually have a book that I'm coming out with soon now with Mercia Press.
Dr Sabina Brennan 03:08
Oh, very exciting things. Oh, my goodness. Oh, my goodness, I cannot wait to read that. Do you know, when it's coming out?
Kate McGrew 03:15
Probably within the next six to nine months. Because the manuscript is in now we edit it for a while. And you know how it goes,
Dr Sabina Brennan 03:21
Oh, my goodness. Oh, well, that's really exciting, really looking forward to reading that. So obviously, it's not an Irish accent, although just before we came on the show you were talking that you do think you have some Irish ancestry? As a lot of Americans do. Are you from the United States?
Kate McGrew 03:39
Yeah, southern Ohio. People always say always have your accent just like when I go home. I think they think I sound a little bit sort of Irish. But like Madonna or something, but um, but yeah, both sides of my family have Irish heritage on them. So I was just talking with a producer, Emily there, then I'll chase up the roots. Both sides from Northern Ireland.
Dr Sabina Brennan 03:58
So Oh, right. Okay. Okay. Really interesting You'll have fun trying to track those. I've certainly tracked down some of my ancestry. And we got to actually a particular boat in 1878, or something like that. The city of Dresden, where my grandfather was to, and his five other siblings and his parents who would have been my great grandparents, they were only 32 and 30. And they emigrated aboard this ship to Argentina, with single children aged from like 14 down to two very brave people. You know, the story? Oh, yeah. It's an amazing story. But that's almost an episode in itself. I often see the parallel with immigrants coming that we see those terrible poor people on boats and drowning and bringing their kids and you have the moral classes for the ones of a better word, saying, Oh, are they dreadful parents putting their children at that risk? And you know what, I'm going to go well, my great grandparents put my grandfather at that risk, but they were desperate. And they were actually only, in a way they were economic migrants, they were bored, they had no money, they were offered this opportunity of an amazing life in Argentina, which turned out to be a lie, like at least people fleeing from Syria, etc. You know, I mean, oh, my God, they're fleeing for their lives, literally, you will do anything. And it must be awful to be that desperate to have to do that. But what I see the real parallel that a lot of Irish people aren't too fond of hearing is that basically on that chip, the Argentine government was offering free passage to people from all over the world because they needed people of working age, strong, healthy people to start working the land in Argentina, they didn't have the population. So they wanted to offer people free passage, etc. And they got in touch with governments, various places. But this job was handed over to two boys from County Cork, who saw an opportunity to make a quick book. And they told all these poor people getting on the ship. So if they wanted to get their passage on the ship, they had to buy a certificate that told them that they could go on board. And they overcrowded the ships. And they allowed octogenarians on board, and infants, like technically, my grandfather should not have been allowed on board, we had to be of a certain age. So they did just the exact same thing. And in fact, when they got over there, so many of them died on the ship going over, when they arrived there, they were dehydrated, emaciated, and there was no one to meet them. There was no life, they were left on the side of the pier or whatever. My family somehow eventually succeeded and got to a place hundreds of kilometers away, and they became gauchos, you know, on horseback, but many others were just left. And obviously, a lot of the pretty girls were taken and brought into brothels, and various things happen to them. So sometimes things don't change. But people forget, you know, I remember thinking that when when you hear people and see them on social media, criticizing parents who are trying just to escape and do the best and survive. And so many of our ancestors here in Ireland did the exact same thing. You know, and how do we go from because I'm sure this is what people are interested in. They're interested in you're a fascinating, interesting person, but there's no denying when you say you're going to talk to a sex worker, people are going to be interested and have questions. In a way I think that's good. I mean, one of the reasons I want to do this is, and number one to learn myself one on one, I'm not aware that I know any other sex workers. That doesn't mean I don't know any sex workers, because it's so underground and hidden. But an awful lot of us our only knowledge or experience of sex work, comes through fiction. And by definition, fiction is fiction. And it's going to depict the extremes of any story and the conflict of any story. It's not going to reflect day to day life, that would be my understanding. Do you always work as an artist? Did you try to find work as an artist and make a living as an artist? How did then you come to be working as a sex worker?
Kate McGrew 08:05
Yeah, I think many people can relate to seeing the same kinds of patterns that we all draw into our lives, similar kinds of people, similar experiences, similar struggles, I think we can all relate to that feeling. So for me, I can sort of see and looking back, this sort of spiraling upward that I've done throughout my life, and part of what has repeated was, for example, when I moved to New York City, straight out of college, I ended up for the first time working in sex work. And I did that to earn money, of course, but because it was my first time working in the industry, I became really absorbed in it, and though I was performing, and shows etc, and auditioning here and there, I was spending a lot of time doing the work. The work was meant to supply money for me for my career. But as these things often happen, and it can happen with anybody for the sort of side hustle that they have, when they're an artist, it can nearly overwhelm your career. So similarly, when I came to Ireland, I came and ended up sort of taking it up a notch in terms of the stuff that I was doing artistically. I started writing my own lyrics, and I started performing in clubs, and at festivals with different DJs and producers. And then I started doing these one woman shows, but some of your viewers may have seen a show called Connected which was on RT two was a reality series Docu drama series, and I come across the radar producers from these shows. I've also just started doing sex work again. And so then, you know, I ended up on TV talking about that once a week. And so I was just in the media constantly talking about sex work and everything. So of course that became the main feature of the story. And so once again, it's sort of nearly kind of encroached on the time that I would have been spending, doing artistic pursuits, you know, now that I've segwayed out of my position in activism, I have more time to work on the artistic part. But that's sort of the way that those two has been a tug of war. It's also symbiosis it is actually but yeah, yeah, it's a tension.
Dr Sabina Brennan 10:00
And there's a few things I want to pick out and go back through there. So you said that you you know, straight out of college, you went to New York, obviously, you know, that's the mecca for theatre and performance. And a lot of people go to these big cities, sort of hoping to make it and find a career in the arts. And it's one of the most challenging professions I know, myself, as a former actor, and my son is a musician. I do understand the challenges of that. What is difficult for me to understand is when you say 'I ended up doing sex work', so how does that happen? I am completely innocent. Most of those stories that we hear, or that we watch or read about, tend to show mainly Yes, there are some where you watch shows and more recent years where it's more export agencies and people working in the sex industry for very different reasons. But most of what we learn and read about suggests a more seedy segueway into sex work. Often, you know, you hear about a girl abused at home and she runs away. And then the only way she can eat is to work as what people would say inverted commas as a prostitution, prostitution. Thankfully, the name has changed to sex work, although I'm not so sure everybody kind of is kind of aware of that kind of change to use that word. So for me, like how do you know even how to become a sex worker? If you I mean, this is a question. But I'm still going well, how do you go from working in theater and going chess, I need to work. And I mean, I know my son is an artist, he did not want as a musician, he did not want to take another job, because he knew the same thing would happen, he'd end up working in a cafe, or you'd end up working in a shop, and not having the time to create the music that he wants to create. And that's that balance that tension, as you say, so how did that happen in New York?
Kate McGrew 12:19
Yeah, thank you for pointing out the phrasing there, you know, because it's such a dodgy phraseology, isn't it to say, even to your tough myself, that ended up in sex work, right. But um, and of course, I unpack it a lot in my book, but it's like everybody in their life, all of our experiences, and everything that we learn, and all of the things that formulate our personality, and our desires, Lead us along our paths. And so it was a combination of things that led me to the place where it seemed like a perfectly easy and natural thing for me to do. And as I said, it was a combination of things. So there was a certain point in my life where I was essentially kind of wild and adventurous. And I had been traveling a lot alone. And I've been having a lot of experiences like that, of course, any young woman who knows traveling a lot alone, what that can be like. So looking back, now, there are numerous people that would have come into my life, that sort of recognized in me, probably the potential to be able to enjoy or stomach however you want to look at it. Yeah, this kind of work. So now looking back, even when I was traveling sometimes and didn't have somewhere to stay. I'm like, oh, that woman was a house mom, or I'm a domme. And I realize now looking at the people who were taking in, oh, that was actually a brothel that I was staying at cetera. And you know, the sort of nuts and bolts of it, the nitty gritty is that I was working at Greenpeace. And I met two women, one after another who, again, just sort of saw a kindred spirit in a way and offered me to do sessions with them. One of them offered me a session with an older client friend of hers, and I went and did that booking. And actually, I think I didn't enjoy it. But part of what's interesting about it is, it's because it actually really turned me on that particular booking. This was before a point in my life where I could accept or I had reckoned with what is arousing, and so I was just made to feel uncomfortable that this sort of arguably perverted kind of game that we were playing to me was arousing. And so that filled me with shame, basically. And so I was sort of allergic and I was like, I don't think I want to do that again. Then I met another woman at Greenpeace. And she was like, I'm working in this house of domination you hang out with sexy women dressed in great outfits all day and you you know, she said a facetious you abuse men all day, something I was interested in for real but it sounds Yeah, you know, theatrical. So I said, let me go for it. I went to the mmediately was like Oh,This is so much better. It's so much more lucrative. It's fascinating. It's fun. I mean, you have to understand this. I mean, I liked waiting tables. You know, I like the service industry. I like entertaining strangers.
Dr Sabina Brennan 15:11
So yeah, no, I mean, that's what jumps out at me. The first time you mentioned it, you said, Oh, I moved to New York. And I ended up in our real faithful into it sounds awful to say it in terms of sex work, but it happens most of us, you know, I ended up I mean, for me, at 16, I ended up working in life insurance company for 15 years, read full, you know, not something I am or had planned to do. So we do end up in and it doesn't necessarily mean that the job itself is terrible, but it's something that sort of happened in an unthinking way. But what jumps out at me when you talk about it is, you talk about it the same way, as you talked about, oh, and then I found music. And I really liked that. And I wanted to be a music major. And then I found this and I wanted to do dance. And it just speaks to me of that you just, it's this sort of passion, this joy of discovery, this, oh my god, this makes me feel alive. I want to know more about this, I want to do more of this. So what interests me is now you say at one point there when you were at that first time with that older gentleman, that you felt certain shame, because this is what interests me, right, as a psychologist, and as someone who's interested in the relationship between our brain and our behavior, which is influenced by all our cultural, social, upbringing, all those factors, that things like shame and guilt and all those things, they're learned behaviors, you know, I mean, we're told that that's a shameful thing. Or, as I've said, this over and over again, a three year old will strip off their clothes, if they feel like it and run around room and we say to them, No, you can't do that you must wear your clothes, you can only take your clothes off when you go to the bath, or when you're going swimming, and you put your swimsuit on. And so we learn all those behaviors, and we learn to be ashamed, and we learn what's wrong or what's not right, or what's immoral in the society and the culture in which we live. So there's a couple of things jumped out to me in terms of you. Number one, there's this, you know that you were this young individual who was curious, I actually did an episode on Curiosity recently, and I explained that, you know, we tend to think of curiosity about information for facts and knowledge and all that stuff. But satisfying your sensory curiosity is just as important and brilliant for your brain. So tasting new foods, feeling new materials, having new experiences that satisfying curiosity, and it's really brilliant for you. So it sounds like you're that person that just was hungry for the world for adventure. But also, you were very comfortable doing it alone. Now, that's something that I never would have been comfortable with. Do you know where that comes from? Were you always an independent little child? Or was that to do with parenting? Or do you have any insights yourself on that?
Kate McGrew 17:56
Yeah, it's funny, I saw somebody just yesterday on Twitter, say, you know, my family keeps giving you about my personality as if they're not the ones that gave it to me.
Kate McGrew 18:11
Yeah, absolutely. It was my family, and probably also being on stage so young in my life, and being surrounded by adults, so young in my life as well, because you're being treated more or less like an equal, who's brought into a world like that. Right?
Dr Sabina Brennan 18:28
And okay, and while we're on your family, there was a podcast that I viewed on joe.ie, I thought it was an interview with you, and you were talking about coming out to your family on TV. And was that in itself is an incredible thing to do. And interesting story. What really struck me about that story, was the faith you had in your relationship with your mother and in her love. Because you said, Oh, I knew they'd be tears. And I knew it'd be difficult. And I knew that this that. But I knew at the end that we'd hug and she'd loved me just the same. I just thought, Oh, my God, that some mother, that's fantastic mothering. We all say those things, but to be sure that your children know that like in the terms of really knowing that you can never be sure and you really clearly knew that. It's a lovely moment
Kate McGrew 19:26
It was yeah, I really lucked out in that way. You know, that's not to say that there haven't been real challenges within my family because of my work. But certainly having unconditional love and knowing that it was there has made it much easier for me to be out. And that is really a safety net. And a comfort. Yeah, it's kind of fabulous to hear.
Dr Sabina Brennan 19:51
We touched on there briefly that you Well, when I introduced you I introduced you as an artist and activist and a sex worker. So really, the activism Well, I was gonna say the activism stemmed from the sex work. But actually, obviously, if you were in Greenpeace, you were always an activist. But the activism that we know you for is around sex work. But you were director of sex workers Association of Ireland sway. And you were very involved, although you're not no longer director. At the time of the changes in the laws around sex work in Ireland, you were very much involved in very vocal about it. And it's something actually that I have an interest in. And it would help very much, I think, if you explained maybe the changes that happened. So in Ireland, there's a Sexual Offences Act that was brought in 2017. That's based on a Nordic model. So be fab, if you could kind of explain what that Nordic model is, and actually, maybe some of the impact that it has had on a sex workers and how SWAI felt adventures?
Kate McGrew 20:55
Sure, yeah. So I was director of sway that sex workers Alliance Ireland for six years. Now, I still sit on the board of the European sex workers Alliance. But this trend from Sweden is something that, unfortunately, has been sweeping the northern part of the globe. And it is a law that criminalizes clients, and brings in lots of other criminalization that affects sex workers by proxy. So in all of the countries that they have brought this law in, sex workers were already decriminalized. So for example, in Ireland, it was already legal for me to sell sex, the new thing that was brought in that now it's illegal for my client. Previously, it was legal for me, it was legal for him. So for the past three years, my clients have been criminalized. Now, sex workers have always been criminalized if they worked in pairs, or groups, under the brothel keeping law. But that's even if you're just working with one other fret for a cheaper place to stay together or to be safer. And now for the past three years, workers that work in this way, are criminalized and face penalties three times the amount that they were before and potential jail sentences now. So one thing that we were able to do at sway, was to actually secure decriminalization for outdoor workers. So another piece of the puzzle is that since 1993, they made it illegal to work outside. So people working in pairs, and outdoor workers have been criminalized together since 1993. So we worked very hard at the end of the bill coming through to get an amendment to decriminalize outdoor workers. That's great. But we still face so many problems from having our clients criminalized at all. And even for outdoor workers, they're still being told to move on, they're still being arrested, if they don't move on, they're still being told by guardi that they're working illegally, even if they're not. So, unfortunately, it's primarily been more sort of a symbolic benefit to them. Because for as long as we can't have this consensual transactional sexual encounter, the policing of it will always end up compromising the sex workers ability to keep herself safe.
Dr Sabina Brennan 23:34
And on top of that, like, there's just so many issues around this. So I remember that campaign, there was a lot of people, you know, campaign, I think it was called Turn off the red light. And it was a very moralistic based campaign and a tool called a feminist campaign, you know, implying that all sex workers are doing it against their will, or they would rather do something else, or whatever these other people felt their reasons were. And I often wondered, well, how much conversation did you actually have with the sex workers? And did you ask them what they want and what they would really like, as opposed to coming along and saying this Nordic model should help sort out? I mean, one of the key reasons the key arguments, as I understand it, that was put forward was that this Sexual Offences Act would help to prevent trafficking, trafficking of people against their will into forced sex work, which of course nobody wants to happen. But to me, in some regard, it seems like a bit of a case of throwing the baby out with the bathwater that you just put in this blanket law that is meant to address one aspect of it, and by doing it in such a gross way, ignores the nuances and actually puts to my mind, sex workers in a more vulnerable position. And I understand that like a lot of people, you know, just cannot imagine how anyone would want to be a sex worker, right. I totally Get that I think it's kind of funny really, because once money changes hands between you and your client, in various relationships, there's that bargaining. Sex is, as always been used as a tool within relationships. And it's whether it's you get a fabulous ring on your finger, or whether you do X Y, Zed. I mean, I know people will hate to hear that. But sex has always had a transactional element to it. And I also think as well, there is always in a way going to be people who need to pay for sex, for whatever reason, and I'll talk to you about that in a moment. Because I do want to get an understanding about what your clientele are like. But the thing is, yes, I can't imagine myself ever being a sex worker or wanting to be a sex worker. But by the same token, I can't ever imagine myself being a miner, going down a coal mine, putting my life at risk, risking my health, because I'm inhaling that. But you kind of say, Well, why would anyone do that job that puts them at risk, they might die when they're down there, it might collapse, they may end up with cancers, lung cancers, they do because they need the money. And we live in a society where you've got to work to pay to live and buy food and look after your family. So because I don't understand it, and because I think it's dangerous for the miners. The solution isn't to stop mining. Ironically, we don't need drive the trade underground, because there's money to be made in mining. So what you do, and what mostly happened in that profession is you make it safe as possible for the miners. And you look after miners rights and people in the 70s, you know, marched for miners rights during the miners strike and all that sort of thing. And that happened. So the thing that distinguishes my mind that from someone working as a sex worker, his morals are religious, or your perceptions, your social mores, your cultural mores that have decided that somehow it is wrong, criminal, distasteful, whatever you want to do this profession. I think it's pretty awful what some lawyers do they defend someone who's carried out murder or whatever. But it's accepted that that's just a job that kind of has to be done. And you can decide whether you want to do it or not. But this has taken away from people, and it has made you less safe. I mean, I totally hear, like, How does anyone think it's looking after a sex worker to say that she cannot work with other people? And I think you even argued for that. Yes, you. We understand that? No, you don't want girls being beholden to a pimp who's taking all the money, and they're almost being traded out and not having enough to eat or whatever. Nobody wants that situation. But again, by just putting in this blanket kind of law, you make the sex worker less safe, because she has to work alone, or he has to work alone.
Kate McGrew 28:03
Yeah, I mean, we harken back to the conversation that we're having and the story that you were telling about your your relatives taking this trip to Argentina that ended up exploitative, and these core Conan lads who took advantage of this situation, and then your relatives ending up somewhere where the deal was different than they had thought. So when we talk about the inevitable sex industry that exists in every part of the globe, it's why we fight for decriminalization, which really is a flexible model of legalization, right? So in countries where they have legalization like Holland and Germany, sex workers find that it's overly restricted. And so once again, few sort of privileged few can tick all the boxes. And so it makes for a huge black market once again. So decriminalization like they have in parts of Australia, and New Zealand is a more flexible model. Now, that doesn't mean that there's no regulation and that there is no zoning, and that there is no licensing. And that's what we need for sex workers is for them to basically have safe options. It's very hard to look at people who come over to Ireland, and end up facing somebody who says, Okay, now you owe us 60 grand for helping you get over here, or now you're over here. We told you, we're going to be in like a nice house working with people. But there's not a lot of work right now. So we're going to take your passport, and you're just gonna have to keep working until you make the money back at cetera. It's hard for people to look at people coming and say, Why would you give any of your money to somebody who's helping you find clients, but like you were saying, it's really hard for anybody at all to look at another person's life and say why would they take that risk, but it's people fleeing poverty, it's people fleeing war. It's people trying to send money back to their families and things like this. And so if your concerned about these people.than those journeys, when they're here, by the time they get here, at least we need to make sure that there is an environment where they have legal safer, better options,
Dr Sabina Brennan 30:10
or tackle the real criminals. And this is the people taking money off them. And again, that argument goes back even further. Because to me, there's a very simple answer. For those refugees who are risk paying a fortune to risk their lives, they may die on the way or they may lose family on the way, and then they come over, and they can't afford to pay back the death, and whatever. And maybe they can't work in the legal system here or whatever, you know, free safe passage for people, let's put them on airplanes and fly them in. And actually, then let them work. I mean, we have tons of shops here where people can't get stuff, because people won't work. One of the reasons is around the PUP. And actually, that's something I wanted to ask you about, like How was COVID for sex workers. So I presume they couldn't get the PUP, we have to isolate, we're not supposed to have close contact, I lost my job in the University because of that, because my research involves face to face contact with people aged 60 to 90 and my team, it was funded by industry. And so they withdrew the funding. So myself and my team lost our jobs. We could have the PUP for a period of time. So that helped immensely. But I really wondered when I was thinking about talking to you. What happened sex workers during COVID or what continues to happen to them.
Kate McGrew 31:25
Yeah, it was tough. It was obviously extremely tough, very, very few of us, were able to receive the pop. And again, a lot of people, you know, part of the so called reasoning behind this Swedish model is that if our clients are criminalized, and we have a problem with clients, we can just call the cops but people do not want to call it sorry guardi because we're working in a quasi legal setting. We don't want for Gardaí to know that we're working. First of all people are weighing up, what will be the benefit? Will I get my money back? Will I be healed? Will I see justice, etc? Will the officer believe me sorry, for using American terminal,etc. So they're weighing up, you know, because then discard knows that I'm a sex worker, if they're having a slow day, they can essentially hang out outside my doorstep and take my clients, I could get kicked out of my apartment, all of these things. There are so many reasons that sex workers don't want to let people know that they're sex workers. So during the pandemic, I mean, essentially the beginning, we started a crowd fund, a crowd sourced emergency funds, were able to get little bits of cash to sex workers, stuff that amounted to really a couple grocery trips, or something like that. But it was really, really tough for people. And of course, people were still, to some degree having to work. And again, very, an ideal work to be doing such interpersonal stuff. So, you know, it's like, we even tried to talk to people about getting higher up on the vaccines list.
Dr Sabina Brennan 33:09
can you imagine the outcry in that?
Kate McGrew 33:12
But, honestly, you know, so but even like, for somebody like myself, who I work in a typically very safe setting, and I found myself doing car meet with regulars, you know, so as I don't want to be as what we call it sort of horror article. But you know, it is a good example of even people who are working on the highest end, being forced to work on what is considered the more dangerous arena of working. So yeah, it was extremely challenging. But people had mouths to feed, so they had to get on with it. We made leaflets that we are passing out to sex workers to though, you know, try and keep your faces away from each other clean surfaces, etc. Just stuff that people won't understand to be really common sense stuff. But just acknowledging that people, we're going to have to continue to work.
Dr Sabina Brennan 33:59
Yeah, that's kind of scary stuff, really, isn't it? The other thing I wanted to ask you is in terms of clients, so again, most people's knowledge comes from TV fiction, all sorts of things about the kind of clients who use sex workers, or avail of,
Kate McGrew 34:17
we say, see, the way you'd see your doctor or something. They come to you.
Dr Sabina Brennan 34:21
Okay, thank you. Yeah, so it's a service. So you go see a sex worker. So what kind of clients come to see a sex worker?
Kate McGrew 34:28
All kinds
Dr Sabina Brennan 34:29
Okay, so I suppose what I'm trying to get at is that because you see these stereotypes on TV, what I'm actually trying to get at is that it is all sorts of people for all sorts of reasons. Can you give me an example of some of the reasons that somebody might come see a sex worker?
Kate McGrew 34:48
Sure to say, you know, I hear other girls say, like, that their clientele are mostly married men, for example. That's not my experience at all. And that's because of the kind of person and sex worker that I am, like, I'm really friendly, for example. So, um, you know, I do have a lot of clients that wouldn't be doing a lot of dating outside of the sex industry. So my clients are people like that people who have struggled to just sort of be on the regular dating scene, if you will, college kids, widowers, married men as well, you know, of course,
Dr Sabina Brennan 35:28
I think people forget, I suppose that's kind of what I want to tap into. You know, it's all very easy to sit on this moral pedestal and say, Oh, nobody should go and see a sex worker like it's X, Y, Zed, whatever you want to call it. But that's okay. If you're in a position where you kind of have access to sex, if you want to have it, or even access to relationships, if you want to have relationships, because I would imagine that part of this, as you said, you have regular clients. So this is relationship based. Also, am I correct to say that, that it's not just seeing you for the physical act? There's something more in repeat clients? Would that be correct?
Kate McGrew 36:08
Yeah. And I mean, again, I think it depends on what kind of person you are and what kind of work or you are okay, because it is also a different kind of stereotype that, you know, not all of them want sex? Oh, yeah, the vast majority are looking to have an orgasm. But, for example, I have a lot of clients that may be trying to indulge fetishes that they feel nervous about asking about otherwise. And yeah, again, most people have regulars, and there is certainly a kind of affinity in that space. Is that like a comfort factor on both sides? Yeah, absolutely. I also don't feel the need to say that it is in no way shape, or form threatening to a person's relationship, at least not from the man's part.Highly unlikely that the man is going to want to go through with sort of running away with the sex worker. I mean, that's the old adage,
Dr Sabina Brennan 37:08
like Pretty Woman.
Kate McGrew 37:10
Sure, yeah. Yeah.
Dr Sabina Brennan 37:12
I didn't mean that sort of relationship. I didn't even mean a romantic relationship. I just meant a relationship. Yes, I knew that. You know, that kind of builds up, I suppose you have a relationship with the guy behind the fish counter in the supermarket? If you buy meat regularly, you know what I mean? That if it becomes a regular occurrence, there's a certain sort of affinity. And then I suppose the same question in terms of sex workers, all walks of life? Or do you see, I want to avoid using the term stereotypical, but again, you know, there's that sense that there is a stereotype of the kind of woman and I'm inverted commas here, who ends up in sex work, would you say that you've come across lots of different? I mean, I presume it's a heterogenus bunch of women as different as any bunch of women?
Kate McGrew 38:01
Yeah, I mean, again, it does run the spectrum. You know, Ireland is sort of a convenient place to work for migrants from the continent. So there are a lot of migrants from the rest of Europe. And then sex workers, you know, again, it's a catch all industry for people who are sort of already on the margins as well. So you do have a lot of people who are, for example, in the LGBT community, I can get back to that. But there are people who are homeless people who use drugs, people who are students, people who are single mothers, lots and lots of single mothers, and trans people, of course, and I think about the LGBT thing, it's people forget so much about male sex workers out of this real sort of misogyny because it's Oh, sure the men can fend for themselves, Oh, the men have so called higher sex drives, this kind of thing. And it's just like, it really tears down the curtain of the hypocrisy of people's concern, when you realize that they won't even acknowledge the huge, huge population of male sex workers. And there certainly is one in Ireland.
Dr Sabina Brennan 39:11
Now, I remember actually, there was a spate a good few years ago of assaults and attacks on male sex workers up along the keys heading up towards the Phoenix Park up there, and it was pretty horrific. I was doing some kind of counseling work at the time, and it really particularly awful and actually, if it had been female sex workers, you may have heard more about this. I think I read somewhere you saying that male sex workers tend to operate differently to female sex workers, they operate less out of their home but maybe out of gyms or is that?
Kate McGrew 39:43
Yeah, I mean, again, it's it's a slightly sort of stereotypical way for me to talk about it, but sort of a more fluid kind of opportunistic way of working so there would be sort of gym and sauna kind of interactions. But even there, there'd be a lot on websites.as well, so, yeah, um,
Dr Sabina Brennan 40:02
SWAI represented all sex workers.
Kate McGrew 40:05
Yeah, absolutely, absolutely. You know, because people don't talk about male sex workers a lot, they can be a population who you know, and they have sometimes a different set of concerns than CIS women do. But they're sort of harder to reach and part of that sometimes interacting with male sex, whereas like, they kind of are just like, not necessarily wanting to sort of dive into our hellish world of people scrutinizing and condescending and further criminalizing us. They're just like, leave us be they let us be leave us the kind of thing. But it does mean that we can't always give them services as much as we want. Although there are people in Empower and HIV Ireland do great work here.
Dr Sabina Brennan 40:47
Yeah. Oh, good. Good, good, good. I kind of think it's interesting in terms of various well meaning groups who advocated for this Nordic model. I mean, that definitely well meaning, but I think from a feminist perspective, what really kind of jumps out at me at that approach is that most feminists will argue, to hell and back about the negative impact of paternalism. And yet my mind what some of these feminists or women's groups engaged in in terms of this Sexual Offences Act and 'Turn off the red liight' was paternalism only done by women? Is that unfair of me to say?
Kate McGrew 41:27
oh, no, it's absolutely on point. It's so infantilizing, it's so hypocritical to be any kind of pro choice movement, that then tries to take away the choice of a person regards to their survival mechanism. I mean, that's the thing. It's just like, you know, to not talk about sex work in terms of people's income. And people's survival mechanism is just so hard hearted. Our clients are our bread and butter, you know, and if you're criminalizing them, I mean, you just have to think about even what that means about even in times where they happily say, Oh, good, they arrested a client, here and there. They're not they're taking advantage of you. And it's like, you can look at it that way. But as much as clients say, Oh, the reason why I pay her is I pay her to calm so she can leave again or something, we're doing the same thing. You know, it's Thank you very much. Now I can pay my rent. Yeah, it's just deeply infantilizing and paternalistic.
Dr Sabina Brennan 42:28
And you could argue that, in fact, that you're taking advantage of the man's need by charging him you know, for the service that you provide. That's what transactions are about, someone provides a service and someone is willing to pay for it. And without putting morals on those kind of things. It is very peculiarly just focused on this particular and one has to wonder, I have to wonder whether it actually really amounts to another form of oppression of women in a way that, you know, if there's a way that if you could safely do this and charge a lot of money or whatever, in a way, it's sort of oppressing, you know, I know, I'm sure some of my listeners who are very strongly feminists are going to go, where are you coming from with that, but I really just want people to start thinking outside the box with this and start thinking about did you actually even question why you think a certain way, most of it is stuff that's been embedded and ingrained in us, and we've believed it, and we've taken it on board without actually questioning it and teasing it apart. And I don't see how you can be pro choice in one area of women's lives and not be pro choice in other areas without you then becoming someone who is dictating how people should live their lives, or someone operating in that paternalistic way we know better, we know what's good for you better than you know, for yourself,
Kate McGrew 43:56
particularly then to be advocating for a law. That means that we put ourselves in more dangerous situations and means that the power is more in the hands of the client who's taking more of a risk by being the criminal himself, who has to try and avoid the police. And Zen says, you know, I don't want to go to your place. Maybe people know that you're a sex worker, you have to come to me, etc. There, there are so many small ways that we start to bend over backwards for them. To call that feminist is you can't even say it's a stretch. I mean, there is no real feminism that doesn't take direction from sex workers ourselves about what it is we need and want to be safe and happy and thriving. And we can still have conversation about misogyny and objectification, et cetera. But arguably, it's far more objectifying for somebody to not treat all of us as if we aren't making decisions that we see fit for our lives
Dr Sabina Brennan 44:55
It is if you don't have the brain to make these decisions. And I think first of all, it has to be Safety first, we have to look after survival first, the safety first and get it so that you can work together in groups and get it so that yes, okay, let's work out a way that people aren't abused by pimps. But let's work out a way where women and men and trans and individuals can actually work together in a way where they look out for each other and and can kind of work safely. But then after that, there's a lot of a lot of work that has to be done in terms of perception, in terms of how we perceive of people who work as sex workers. There's an awful lot to be done. I'm very grateful for your time. And I don't want to keep you too long. But you mentioned there that there's a lot of single women working as sex workers, you have a fantastic relationship by the sounds of things with your own mom. I don't know whether you have any children. But is that something that you've ever thought about in terms of how that would work out our players going forward? You're nodding. And I'm not so sure how that goes down. If this has crossed a line in the question, I'm sorry.
Kate McGrew 46:01
No, not at all. I'm laughing and smiling. Because yesterday, I wrote a vocal for a new song about the abortion that I regret. So yeah, so um, it's on my mind a lot right now.
Dr Sabina Brennan 46:15
Oh, my goodness.
Kate McGrew 46:16
Yeah. I can perform it for you guys.
Dr Sabina Brennan 46:19
Oh, I would love that
Kate McGrew 46:21
some point in the hour. Yeah. So to answer your question, though, so people may have heard women say this before, it's that for any of us who have kids, I have not obviously, for those of us who have kids, or would be having kids, we want for them to be safe, as safe as possible. So of course, if I had a daughter, and she wanted to work in the sex industry, I would just be letting her know absolutely everything that I know about it. And I would just be hoping that by this point, there were safer ways for her to work less stigmatizing ways of working. I mean, I think that, again, the sort of frustration around the hypocrisy of how people handle the sex industry, comes from bad sex ed, and it comes from us looking at sex as this entirely separate category that makes the issue seem unrelatable or disconnected from anything else. When it's not, I don't think it's a job like any other. But that's not to say that we should assume that, for example, sexual assault is inherently that much worse than getting beat up worse, say, for example, molestation is that much worse than getting beat up, for example, people just when they think of sexuality, and sex, they just put everything in this completely other category. And it's really easy to become sort of overly precious and horrified about things that are maybe not so sensitive, or horrifying to people themselves within it. Yes, and this is a sort of vicious cycle, because all of us because we've had bad sex ed, we have these normal little micro traumas, as we're growing up around sex, and they end up having really outsized repercussions, because we experienced them with these big scary feelings as opposed to realizing, yeah, you know, this journey of sexual discovery is quite bumpy, especially when we're not raised able to talk about it properly, or raised even with ritual. I mean, this is something that I think about these kinds of things all the time, Sabina, so
Dr Sabina Brennan 48:46
No, I think about this kind of stuff as well. And I've thought about it in the past around. And it's a very sort of sensitive subject to kind of discuss, but around the actual and it was you had said to me, I would mind talking about that kind of viewpoint that rape and sexual assault are somehow worse than other types of assault. And actually, you directed me to an article that said, it's just a penis, which kind of isn't totally about that. But if we're talking about assault, and this is just me throwing this sort of out there, because we have grown up as women in a society that does seem to imply that sexual assault that rape is one of the worst things that can happen to you that to be honest, I can think of other things that would be far worse in a way. Of course, it depends on the violent nature of the rape, and there's varying degrees of being raped in terms of context and how it happens and occurs. So it's never just one thing and these things are never black and white, there's always Shades of Grey, you know, if you were to turn around and say, Well, okay, how is sexual assault or rape worse than other kinds of violent abuse? And if you want to say it's only just a penis, can you then apply? It's only just a knife. It's only just a gun, which is worse? And I wonder in our society telling us that to be raped is one of the worst things that can happen to us. Do we then put ourselves at risk now, okay, not condoning the perpetrator, the perpetrator is always wrong, the perpetrator is always at fault. This is not what the question is, this is not what I'm discussing. It's about society's perceptions, and the impact that they have. Do women put themselves at risk of being stabbed, strangled, shot, in order to save themselves from being raped? Because being raped is classified as worse than being stabbed, assaulted in some other way? And I mean, it's just a question I'm putting out there that are there really degrees. I mean, at the end of the day, emotionally, psychologically, of course, rape can be violent and involve terrible injury. But where it doesn't, the injury and the trauma can be more psychological in nature. Whereas if you're stabbed, and you lose your legs, or your shot, or your shot through the head, and you have brain damage, all these terrible things, they're actually less fixable in some regard, because we have an awful lot more control than we think in terms of the psychological impact that certain traumas can have on us. And I just wonder, sometimes, whether, because pain and trauma are often about perception, and about understanding what you may have lost or what it means, and so much of how we feel around those things like sexual assault, and rape, are influenced by what society says about sexual assault, and rape. And I think I remember a long time ago hearing about gosh, I think it was in Rwanda. And during the horrible massacres, and so many women were raped and had horrific things, women had babies cut out of their bellies and horrific things. And the rape became one of the lesser things in the context, because they felt they came away with their lives. And that's not that they're any different people to us, but it's in a different framework. I'm raising more questions. And I don't mean to answer, but I just think it's things that we need to think about.
Kate McGrew 52:08
Yeah, I mean, that's the thing. It's like, sometimes I hear sex workers try and say, Oh, so many other people work with our bodies, you know, look at people who break bricks, or, like you said, miners or something like this, but it's also like, working with your hands is very different than working with your vagina. You know, there are more nerve endings, everybody comes to that space to their sexual experience with sexual baggage. It's just that there is space for us to question, like you said, why inherently getting sexually harassed is considered, especially nearly right now is just the way that people are talking about stuff, the discourse worse than getting punched in the face? And it's, I don't know, it's something that I still wrestle with. But I feel like it's very important to point that out.
Dr Sabina Brennan 52:57
You know, I think a conversation is needed. And I'm sure some people will think what I've said is horrific. I'm still wrestling with it. I'm just sort of asking questions around why and whether it is to our benefit to do so. I mean, I certainly feel that if you have been sexually assaulted or raped to continue to suffer, as a consequence, gives more power to your assailant, if there's anything you can do to kind of say, well, actually, in a way, the bigger a deal I make out of that, the more they've assaulted me.
Kate McGrew 53:30
Yeah, I mean, the research that I pointed you to there, which is paywalled, I think, unfortunately, but it's um, yeah.
Dr Sabina Brennan 53:35
And I couldn't actually get out as myself. Yeah, I can just tell you briefly. It's a woman in the 80s, who went to visit the garage. It's how you say their name, Indonesian tribe in Borneo. And they have a very interesting culture where, as an aside, they kind of don't believe in gender differences except for the job that people do. So even like men will breastfeed babies,
Kate McGrew 53:58
sort of suit them and things like this. And when you have people draw pictures of genitals, they actually draw them as looking quite similar, etc. So it's a very interesting culture to say, nonetheless, they also don't believe in rape. So this woman is describing one evening where she hears some commotion. And here's a woman shouting a man and he goes running through the village and the next day, she says, all of the people are gathered and they're laughing. All women are gathered and they're laughing and reenacting the scene of this man.
Dr Sabina Brennan 53:58
yes,
Dr Sabina Brennan 54:38
He broken into a house and people in the house could hear he got tangled up in the mosquito nets and is running, you know, losing his sarong as he's kind of leaving and a woman shouting out.
Kate McGrew 54:50
Yeah, so she basically realizes they're describing an attempted rape. And the researcher is just absolutely gobsmacked and shocked and she says, how are you?laughing about this, don't you understand that what he was trying to do there? And the woman says, Absolutely. The woman says, Don't you want justice or something? She says, Yeah, I'm gonna try and get some money out of it or something like that. And still, they're laughing about it. And she says, the research, I don't think you understand how serious this is this, he was trying to hurt you. And the researcher said that the woman just sort of looked at her nearly with a look of pity and said, hurt me. It's just a penis, like that. And it's just, you can realize in that situation, yes, she was still going to get money. First of all, brilliant. I think oftentimes, that's what actually would help victims is to have a bit of money, but just that that's how they perceive that there. And it wasn't that it wasn't an affront, it's that that's how they handled it.
Dr Sabina Brennan 55:52
Yeah. And I think part of the problem as well as if you have experienced sexual trauma, or rape or sexual assault, so much of it has to be dealt with within your own head. Because there is this thing that if you say it out loud, that's who people see you as you become the person who was raped. And nobody is that one thing in their lives. And I suppose that's one of the reasons why I started this episode with you at the top by saying you're multiple things, because we are all composite of things. But when you do something that I suppose is controversial, like being a sex worker, there is a risk that that's who you become. That's all that people see. Rather than, and I suppose that's part of what I'm keen to do with these kinds of things is, and that's the route to destigmatization really isn't it is to actually start having conversations and realizing, Oh, actually, I've loads in common with her.She just happens to be a sex worker, I couldn't do that. It's only one little thing. But you and I you like if you can just take myself, Oh, my God, we knew at the age of seven or eight that we wanted to perform, we wanted to be on stage, I'm different to you in that I never really felt unconditional love from my mom. And I'm envious of that. So that's the richness of when you actually meet people. You find things that you have in common, you find things that you really aren't very fond of, and you find things that you are jealous of. And that's the richness of the human condition. And I think unfortunately, I think social media has a lot to do with it. But I think this black and white thinking this, just putting people in boxes, this depersonalization, stigmatization, whatever you want to call it, that's at the root of all of these things. And unfortunately, it's going to stay that way with sex workers, if they are driven underground. Similarly, if people who see sex workers are criminalized, we never get to hear those stories as to why they seek a sex worker. And I don't mean, why, oh, let's solve their problem. You know, like, there's lots of reasons that aren't unpleasant, that people seek sex workers, there are people trying to survive in a world that makes it difficult for them, maybe to have sex or have relationships, the telling of stories is actually what helps to break down those barriers. So I think, huge credit to you, and huge kudos to you for doing this. Because it's very brave. It shouldn't have to be something that is brave, but it's very brave in Ireland, in particular, and in a very modern feminist Ireland, I actually think it's become even more challenging, you know, for you to stand up, because when you were director of sway, there was challenges between sway and some feminist organizations. So huge kudos to you. Thank you so much for talking to me. I'm not going to one more thing to ask for you. This show is about surviving and thriving in life. And I always like to end with asking my guests to give one tip about either surviving or thriving in this world that we live in.
Kate McGrew 59:12
It really would be chasing your heart's desire. We have to drive towards that. With everything in us, like our life depends on it, because it does.
Dr Sabina Brennan 59:24
That's just fantastic. That's totally what I believe. I believe so many people give up on their dreams, and they follow this path that they believe they've been set on, or, you know, people becoming doctors because that's what mom and dad wanted to do. And that's tough, too. It sounds like a first world problem. But if your desire is to be a concert pianist, and you're working as a doctor for the rest of your life to please mommy and daddy.
Kate McGrew 59:45
Yeah, I do believe that art is the most noble thing that a person can do. I mean, doctors, I'm amazed that you're a neuroscientist. I'm also fascinated with the brain and doctors. I mean, we need doctors Obviously, and to me, it seemed artistic in a way as well. I mean, I had a client in New York who was a brain surgeon. And it was beautiful. You know what I mean? I could just tell that the way that he talked about it, and the way that he moved that it was like a dance.
Dr Sabina Brennan 1:00:14
It's what you said, it's finding your passion. And from that comes your joy. And I do think going back centuries, probably very long time, an awful lot of women who work to sex workers also worked in theater, you know, or they worked in the arts, they were performers of sorts. And actually, in fact, that's probably where my father got that when I told my father, I wanted to be an actor, and that I was giving up my job to become an actor, he was horrified because to him, it was the closest thing to prostitution. And that would have been the words he used back then. And that's because an awful lot of actresses used to also be ladies of the night, as he would put it. So he was horrified. But his daughter wanted to be an actress. And so there's that long history. And I do think part of it, and I feel strongly with my son as well, who's a musician, we don't support the art enough. In the past, there was patrons who supported artists. And the first thing that goes when governments are under pressure, and there's budgets, and there isn't enough money for health services, and its attributes, they cut funding to the arts, what what would you do every day, if you couldn't read a book, if you couldn't listen to music, if you can never watch a movie, again, if you can never see a beautiful picture, if you can never take a photograph, they are the wonderful things that bring joy into our life. And it needs to be supported. Because it just isn't people aren't really willing to pay the artist what they're worth. And so there does need to be some sort of support.
Kate McGrew 1:01:46
Yes, I also think that the nonlinear thinking and the sort of direction from the subconscious, all of these things that are involved in the arts are the spaces that allow our brains to innovate and to drive change and evolve as a species. And these things affect technology and science. Absolutely. stems from the arts.
Dr Sabina Brennan 1:02:05
Oh, absolutely. And the arts can really affect political change. And that's why in another way than when you do stand up shows, but I think you have one. 'Hookers, do it standing up' when you're doing those kinds of things is a very effective way to bring about change and change in perspectives. No, really, really important. Thank you so much. I could talk to you forever. There's so much I'm so excited for your book.
Kate McGrew 1:02:29
Thank you, Sabina. It's great to talk to you. I feel like everything we were talking about we could have talked about on each topic for an hour couldn't we. Can I do this little
Dr Sabina Brennan 1:02:39
I would love it.
Kate McGrew 1:02:43
Kate sings
Dr Sabina Brennan 1:04:47
My name is Sabina Brennan, and you have been listening to super brain the podcast for everyone with a brain. Super brain is a labor of love born of a desire to empower people to use their brain to thrive. In life and attain their true potential, you can now go ad free on patreon.com forward slash superbrain. For the price of a coffee. Please help me reach as many people as possible by sharing this episode. Imagine if we could get to a million downloads by word of mouth alone. I believe it is possible. I believe that great things happen when lots of people do little things. Visit Sabina brennan.ie for the super brain blog with full transcripts, links and the like. Follow me on Instagram at Sabina Brennan and on Twitter at Sabina underscore brand and tune in on Thursday for another booster shot from me and on Monday for another fascinating interview with an inspiring guest. Thank you for listening