Super Brain Podcast Season 3 Episode 7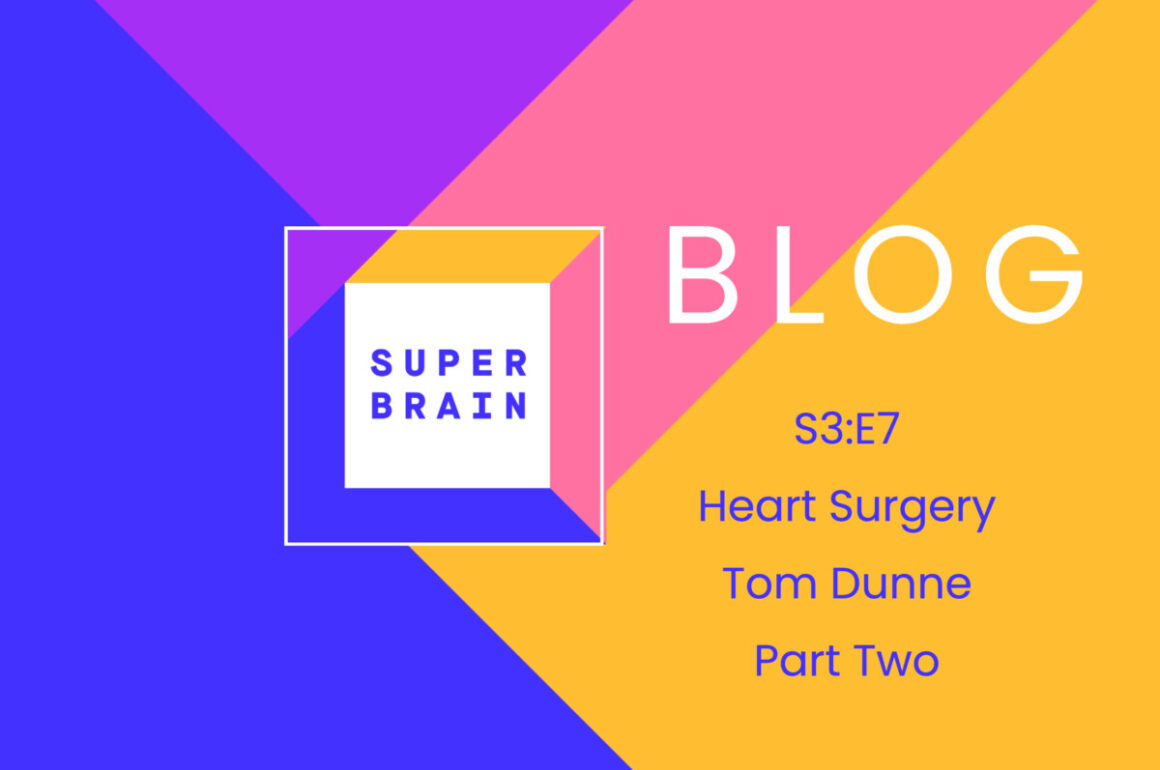 Show Notes S3:E7
Heart Surgery, Hallucinations and PTSD with Tom Dunne (Part 2)
Listen and Subscribe:
Apple Podcasts, ACAST, Spotify Stitcher, Google Podcasts,
In this episode, Tom Dunne talks me through his journey to and through life-saving heart surgery Tom literally almost died as his kidney's failed – thankfully he survived and is not only in great form but is a fantastic story teller even when that story involves ICU, kidney failure Heart surgery, hallucinations and post traumatic stress.
During this episode we discuss
How Catherine's life changed with the sudden death of her mother
Finding solace in the sea for six years in Westport
Studying for a degree while coping with multiple miscarriages, moving house and ultimately pregnancy & birth
Me time
Her near death experience in
Acceptance
Links
Animation – Is high blood pressure bad for my brain?
Books
Beating Brain Fog – Your 30-Day Plan to Think Faster, Sharper, Better
100 Days to a Younger Brain – Maximise your memory, Boost Your Brain Health and Defy Dementia.
Transcript
Coming soon
Guest Bio
​Tom Dunne is a Radio Broadcaster with Newstalk. The Tom Dunne Show is a night- time radio show which is on air Monday to Thursday evenings and Sunday evenings. The show itself is a mix of popular culture in a way that will appeal to both men and women which focuses on music, culture, movies, sex, sports, comedy, books, gossip and technology.
He is also well-known as lead singer with Dublin group 'Something Happens' who were one of the country's shining lights in the early 90's with albums like 'Bedlam A Go-Go' and 'Stuck Together With God's Glue' and unforgettable singles like 'Parachute' and 'Hello, Hello, Hello, Hello, Hello (Petrol)'.
For more information please contact: info@nkmanagement.ie or 35314278400
Over to You
Have you overcome a trauma, experienced hallucinations or gone through heart surgery? Did Tom's story resonate with you? I'd love to hear from you in the comments below.
If you enjoy the Super Brain podcast please take a moment to rate and share it.
Support this show http://supporter.acast.com/superbrain.