Award: Innovation for Social Impact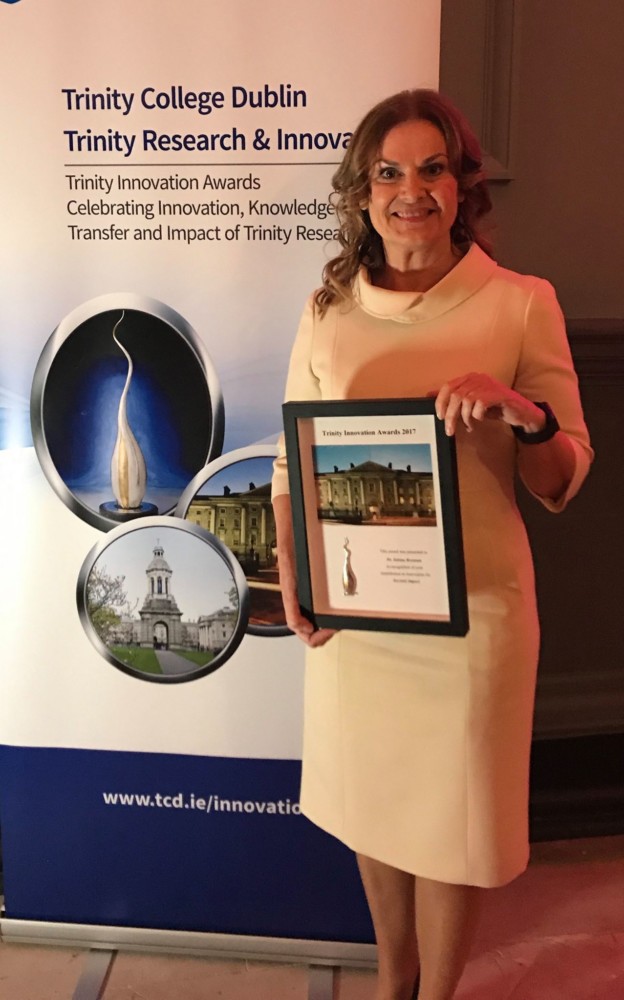 On November 27th the Provost celebrated excellence in innovation research within Trinity College Dublin.
Awards recognising innovation, knowledge transfer and the impact of Trinity research were presented to eight researchers by the Provost Patrick Pendergast.
The focus was on innovation that has led to intellectual property creation and license agreements, enabling the deployment of this knowledge in cutting edge products and services by industry partners and campus companies.
The awards also recognised entrepreneurial spirit in founding high-potential, investable, scalable companies that have attracted funding and created jobs.
The awards also honoured those whose innovative research has had a significant impact for Trinity, for society and for industry.
I was delighted to receive an award from the Provost in recognition of my innovation for societal impact. For me innovation is about finding the simple solutions to complex problems. My work focuses on translating complex scientific research and medical content into easy-to-understand information. I call what I do empowerment through entertainment and research on my animations shows that the approach is effective. My work has generated IP and my spin-out company Trinity Brain Health Ltd has issued more than 50 licenses to NGOs, hospitals and advocacy groups on 4 continents. My animated films addressing the fears of memory loss and dementia have been translated into 15 languages and viewed in 140 countries by more than three-quarters of a million people. That audience has been reach has been achieved organically with no advertising. Imagine what could be achieved with more financial support.
I hope that the introduction of an award for innovation for social impact highlights the importance of research for impact and in so doing helps to attract more funding for this kind of work.
The awards were introduced by the new Director of Trinity Research and Innovation, Leonard Hobbs (and yes he is Eddie Hobbs brother) who said: "Over the past 30 years Trinity campus companies have raised more than €200 million in private investment; enabled the direct creation of more than 3,000 jobs and have delivered over €1.2 billion in exports. All of tonight's prize winners of the Trinity Innovation Awards have played an active part in this. We are proud of this contribution to society and the economy, and aim to build on it further by leading innovation at Trinity."
It was truly impressive to hear about the amazing achievements of the other award winners and indeed the nominees in each category.
Professor of Biochemistry, Luke O'Neill received the Provost's Innovation Award for his outstanding contribution to innovation throughout his incredibly impressive career.
The Lifetime Achievement Award was presented to Fellow Emeritus, Professor Tim Foster for his innovative work in the field of vaccines, both for human and veterinary applications.
Ones-2-watch awards were presented to Dr Matthew Campbell founder of campus company Junction Therapeutics and Dr Parvaneh Mokarian, founder of campus company Papelli Systems.
Adjunct Professor Frank Boland and Professor of Genetics Jane Farrer were recognised for their innovative research that has had significant socio-economic and commercial impact. Jane and I were both finalists in the 2017 US-Ireland Research Innovation Awards presented by the Royal Irish Academy and The American Chamber of Commerce, sadly neither of us won in May so it was particularly pleasing that we both received Trinity Innovation Awards.
Professor of Engineering and Arts, Linda Doyle was acknowledged for her outstanding contribution to the success of the SFI Centre CONNECT, the Future Networks and Communications research centre at Trinity, and the roll-out of the Ireland-wide 'Pervasive Nation' project, a, wireless network infrastructure dedicated to the Internet-of-Things.
Professor of Medical Gerontology Rose Anne Kenny who was not in attendance was awarded for her outstanding contribution to The Irish Longitudinal Study on Ageing (TILDA) and for her involvement in Mercer's Institute for Successful Ageing.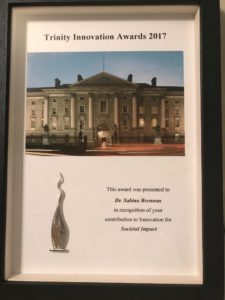 The awards themselves were stunning with each one containing a piece of art by Irish Sculptor Seamus Gill. I'd like to thank my various funders and collaborators including: The European Commission, Enterprise Ireland, GENIO, The Alzheimer Society of Ireland, Home Instead Senior Care Inc, The Health Research Board, GBHI, Novartis International, The Irish Research Council, The Medical Research Charities Group, The Atlantic Philanthropies, The HSE, The Atlantic Philanthropies, The ADAPT Centre, Trinity College Institute of Neuroscience, Red Dog, 360 Productions, and AGE Platform Europe.
You can read more about the awardees and their outstanding achievements here