Comment: Access to Education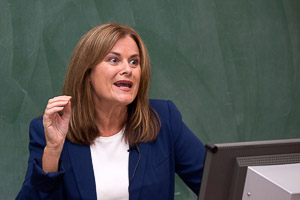 "I will campaign for the Government to put policies and resources in place to address inequalities in education by increasing access to higher education for underrepresented groups"
Education is a fundamental human right, Many groups of Irish society remain underrepresented in higher education, including members of the Traveller community, ethnic minority groups, and a number of SES groups.
Education is an important social determinant of health that impacts on physical, mental and brain health with substantial evidence supporting a protective effect of educational attainment on dementia risk.
A resourced research mechanism is needed to facilitate the systematic collection and analysis of data necessary to profile and understand the participation of underrepresented socio-economic groups across the education system and in all professional areas. This data could then be used to benchmark against the data from other jurisdictions, and to inform the development of policies and targeted action plans to address inequalities.
Delivering Equality of Opportunity in Schools (DEIS) the Action Plan for Educational Inclusion, was launched in May 2005 and remains the Department of Education and Skills policy instrument to address educational disadvantage.
Ten years on the time is right to move away from deficit concepts of schooling, teacher engagement and socio-economic status. We need to develop policies that cultivate a culture of empowerment for students in DEIS schools and areas with low higher education progression rates. We need to instil self-belief in students. All students in Irish schools should believe that all students can progress to post-secondary education. Students need to be aware that they will be provided with the information and networks, as well as a positive educational environment, to make informed educational and career decisions.
Education can contribute to increased health inequalities by perpetuating cycles of intergenerational and socioeconomic disadvantage. Breaking this cycle requires strategic investment in education and lifelong learning and cooperation between departments of health and education to harness education as a means to a healthier Ireland. Interventions to address inequalities in education must prioritise the most disadvantaged since initiatives that target all of the population may give rise to additional benefits for the more advantaged.